Mini Formats - Mixed Media on Paper 2009 and 2010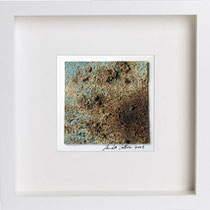 All shown mixed media on paper here is a unique original of 18 x 18 cm (7.1 in) - the perfect little gift for only 49 Euros (GBP 43, US$ 70).
Parts of these works on paper are available at the Galleries Galerie Kaschenbach, Trier (Germany), Galerie Hellbusch, Mainz (Germany) and ArteArtesanía in Sóller (Majorca, Balearic Islands, Spain) and can be orded directly here in the online shop.
If you would like to see a particular artwork in person please send a message at amador@amador.de to find out which art gallery has it in stock.
Click on an image for a bigger photo, detailed information and starting the slideshow.
These are two examples of framing the same artwork.
Tags: Amador Vallina, mini format, buy original mixed media on paper, one of a kind, contemporary fine art, works on paper, gift idea, valentine's gift, presents, the art of giving, collectable art, mixed media paperwork, monotype, small formats, contemporary art in microformat, spanish art, abstract paperworks