Fine Art Exhibitions
Current Exhibitions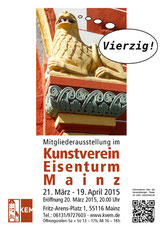 Vierzig!
Group exhibition of the artist members of the 
Kunstverein Eisenturm Mainz
20.03.-19.04.2015
Kunstverein Eisenturm
Fritz Arens-Platz 1
55116 Mainz
Germany
Upcoming exhibitions:
26.04.-10-05.2015 Kulturbunker Koeln

09/2015 open studio and sculpture garden, Woerrstadt
we are planning more exhibtions ... 

If you want to receive invitations to my future exhibitions subscripe to my newsletter.
Previous Exhibitions and Art Fairs
Solo Exhibitions
| | |
| --- | --- |
| 2014 | Kunst³, Kunstverein Eisenturm, Mainz, Germany |
| 2014 | Grenzenlos, VG Woerrstadt, Germany |
| 2014 | La Naturaleza Muerta - Viva!, Galerie unterm Maulbeerbaum, Badenheim, Germany |
| 2012 | Kultur gut stärken, Studio & Sculpture Garden, Wörrstadt, Germany |
| 2011 | meins II, Galerie Hellbusch, Mainz |
| 2011 | Open Studio and Sculpture Garden, Wörrstadt, Germany |
| 2011 | Campo y Mar, Galería K at Bistro Jens, Camp de Mar, Andratx, Majorca, Spain |
| 2010 | Obra Reciente, ArteArtesanía Gallery, Sóller, Majorca, Spain |
| 2009 | trans.form.arte, El Pato, Son Vida, Palma de Mallorca, Spain |
| 2007 | RETRO•per•SPECTIVA, Galería Can Puig, Sóller, Majorca |
| 2005 | Recién pintado, Agapanto, Puerto de Sóller, Majorca |
| 2004 | m e i n s ,  MBA - Management & Business Akademie, Mainz |
| 2003 | Sa Vinya, Deià, Majorca |
| 2003 | Roots of Spain, The Bonhoga Gallery, Weisdale, Shetland Islands, Scotland, UK |
| 2002 | El Horizonte, Can Perlus, Sóller, Majorca |
| 2001 | Pintura – Escultura, Casa de Artes – La Galería, Cas Concos, Majorca |
| 2000 | Pintures – Escultures, Gallery Can Puig, Sóller, Majorca, Spain |
| 1998 | Tür an Tür with Titus Gran in the foreign studios, Wiesbaden |
| 1998 | Zeitsprünge, Kaus & Meyer, Dreieich-Buchschlag/Frankfurt a. M. |
| 1997 | Aus4Stellungen, kunst.verladehalle, Rüsselsheim, Germany |
| 1997 | Gallery Swayambho, Wiesbaden, Germany |
Group Exhibtions
2012
Encuentros III, Drikoningenkapel, Doetinchem, Netherlands
2012
TraumHaft, Kunstverein Eisenturm im MVB Forum, Mainz, Germany
2012
HandArt Festival I, Schloss Alsheim, Alsheim, Germany
2012
Encuentros II, Museum Galerie Rosmolen Universart, Zeddam, Netherlands
2011
Kunstweek, National Art Week, Hispanico Art Galerie, Doetinchem, Netherlands
2011
Encuentros, Driekoningenkapel, Doetinchem, Netherlands
2011
Night of the Museums of Mainz, Hellbusch Gallery, Mainz, Germany
2011
 
Ontmoetingen - Encuentros, Expo Hispánico Art, Museum Galerie Rosmolen Universart, Zeddam, Netherlands

2010

"WINTER_ART", Essenheimer Kunstverein, Kunstforum Rheinhessen, Essenheim, Germany

2010
"ExpoGays 2010", Galería d'Art i Disseny Patricia Muñoz, Málaga, Spain

2010
"A Bit de l'Art", Espai Obert, Palma de Mallorca, Majorca, Spain
2009
"TROIKA 8 – 2nd International Small Art Exhibition", Dragon Hall, Norwich, Norfolk, UK
2009
Galería K, Palma de Mallorca, Spain
2009
"XIX. Feria de los Artistas" (Artist's Fair), Atocha, Madrid, Spain
2009

 

"Erste Begegnung", Kaschenbach Gallery, Trier, Germany
2009

"arte y mar", Puerto de Pollensa, Puerto Andratx and Puerto Alcúdia, Majorca

2009

"Primera Fira de l'Art", Santa María del Camí, Majorca, Spain

2009

 

"Abril – Lluvia de Arte", Gallery L'Unico, Palma de Mallorca, Spain
2009

"Un viaje por el mundo de la expresión", Puerto Portals, Majorca

2009

"Ciudadano ilegal", Galería Berlin CSAA, Palma de Mallorca, Spain

2008

"What does the future hold?", Gallery ArteArtesanía, Sóller, Majorca

2008

Days of Open Studios, Arte Visión/Espai Obert, Palma de Mallorca

2008

Colectiva Arte Visión, Costa Nord, Valldemossa, Majorca, Spain

2008
Nit de l'Art, Empire Art Gallery, Palma de Mallorca, Spain
2008

Casal C'an Pere Ignasi, Campos, Majorca, Spain

2008

S'Olivaret, Alaró, Majorca, Spain

2008

"ANSICHTSSACHE(N): Spuren", Kunstkreis Bingen, Bingen, Germany

2008

Gallery Joana Frontera, Palma de Mallorca, Spain

2008

Mallorca Contemporary Art Auction, Binissalem, Majorca

2007

Regala Arte, Santanyì, Majorca

2007
"SupermercART", Sóller, Majorca
2007
"10 x 10", Gallery ArteArtesanía, Sóller, Majorca
2007

Espai Obert, Palma de Mallorca, Spain

2006

"Cami – Conceptes", Oratorio de San Ramón de Penyafort, Puerto de Sóller, Majorca

2006

"Sollerics (1)", Galería Can Puig, Sóller, Majorca

2004

"Colectiva", Can Perlus, Sóller, Majorca

2003

"Mar Negro", Can Perlus, Sóller, Majorca

2002

"Subasta de Pinceles", art-auction, Can Perlus, Sóller, Majorca

2002
ArteArtesanía Gallery, Sóller, Majorca
2002

 

"Más allá de la puerta de Tannhäuser", Can Perlus, Sóller, Majorca
2002

 

"¿Ni Carne Ni Pescado?", Can Perlus, Sóller, Majorca
2002
"Encontre – Begegnung", Can Gelabert, Binissalem, Majorca
2001

art-auction, Es Tall, Can Perlus, Sóller, Majorca, Spain

2001
Gallery Racó 98, Sóller, Majorca
2001

"Capses – Cajas ", Can Perlus, Sóller, Majorca, Spain

2000

Gallery Jürgen Busch, Munich, Germany

2000

 

"Els Residus Sòlids" Per Amor a l'art ..." Flassaders,Palma de Mallorca, Spain (catalogue)
2000


 

"European Youth Circus 2000", mail art project,town hall of Wiesbaden and Brusseles, Belgium
2000

 

"La Plástica del Kimono", Can Perlus, Sóller, Majorca, Spain
1997

Gallery Schöning, Frankfurt a. M., Germany

1997
"Kunststation Mainz Süd", south railway station Mainz, Germany (catalogue)
1997


 

"Kunstforum Rheinhessen" (Art Forum Rhine Hesse), Essenheimer Kunstverein e.V. (catalogue)
1996

 

LandART IV, Unna, Germany
1996
"Exit", artist's studio [artefacto], Wiesbaden, Germany
1996

FormART, Bochum, Germany

1995

Gallery Wiesweg, Eltville, Germany

1994

LandArt III, Unna, Germany

1994

"Mixed Media", Gallery Schöning, Frankfurt a. M., Germany (catalogue)

1994

Gallery Wiesweg, Eltville, Germany

1994

FormART, Herten, Germany

1994

"Zeitspuren", Fakt - Gallery, Wiesbaden, Germany

1994

Ambiente '94, Feria de Frankfurt a. M., Germany

1993
"ArtHouse im Rathaus", Ingelheim, Germany (catalogue)
1993

Gallery Gabriele Sauveur, Eppstein a. Taunus, Germany

1993

Pariser Hoftheater, Wiesbaden, Germany

1992

"Experimente" at the autum-fair in Frankfurt a. M., Germany (catalogue)

1991
/

1992 / 1996 in the foreign artist's studio of [artefacto], Wiesbaden, Germany
Download

Tags: Amador Vallina, recent fine art exhibitions, current exhibitions, contemporary art exhibitions, upcoming exhibitions, future exhibitions, forthcoming exhibitions, solo exhibitions, one-person shows, solo shows, opening receptions, inaugurations, personal exhibitions, individual exhibitions, group exhibitions, collective exhibitions, group shows, previous exhibitions, past exhibitions, upcoming shows, future shows, group shows, now on view, shared exhibitions, art fairs, exhibition record, open days, openstudio, Germany, Wörrstadt, Woerrstadt, Mainz, Rhineland-Palatinate, Wiesbaden, Frankfurt, Trier, Munich, Spain, Balearic Islands, Palma de Mallorca, Sóller, Majorca, Madrid, Scotland, UK, Norwich, Netherlands