7th Night of the Museums of Mainz
(7. Mainzer Museumsnacht 2011)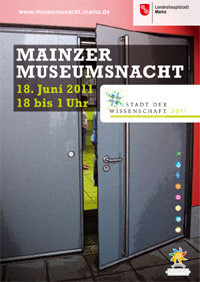 At the long night of the museums also participates
among 45 museums, galleries and cultural institutions -
the Gallery Hellbusch, Gaustr. 55 in Mainz.

From 6 p.m. to 12 p.m. there are shwon expressive and experimental paintings by the represented artists, Elke Pollack, Maria Henn, Mark Hellbusch also as monotyped and mixed media paintings on paper and canvas from me.
From 8 p.m. on Mark Hellbusch shows "Live Painting" at the open studio.
We are glad to meet you!
The complete program of the Night of the Museums can be found and download at the website of the City of Mainz.


Hellbusch Gallery
Galerie Hellbusch
Gaustr. 55
55116 Mainz
Germany
Tags: Amador Vallina, Night of the Museums of Mainz, Hellbusch Gallery, Mainz, art event, exhibition, fine art, contemporary art, spanish fine art, mixed media on canvas, mixed media on paper, Mainzer Museumsnacht 2011