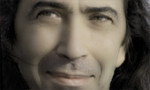 The artwork on this site represents a portfolio of contemporary fine art: paintings, mixed media on paper, monotypes, original prints, drawings and sculptures by the spanish artist Amador Vallina. 
Beside the informations about current exhibitions you find all the most recent news in the Art Blog which will let you know whenever you can see new artwork online or at a live exhibition. By subscribing to a RSS feed, you keep you up-to-date with the blog entries of your interest.
The website is updated frequently, so please put your e-mail address in the form beside to subscribe to my newsletter which tells you about new artworks and offers that are added, including invitations to upcoming exhibitions.
You also can follow @amador_de on Twitter or become a fan of Amador Vallina at Facebook to stay informed.

Put your mouse over the picture to see the navegation (full screen modus, single images, restart the slideshow ...)
Giving is not Art
Still looking for an original gift idea for your friends, colleagues, clients? Give original art!
You find an extensive selection of unique artworks, handsigned mixed media on paper, on the "Mini Format" page, which you can order easily and short dated in the online shop.
Give Art!

Tags: Amador Vallina, contemporary spanish artist, unique contemporary art, original fine art, spanish painter, nonrepresentional contemporary art, original abstract paintings, non-representional, art informel, abstract experimental modern art, visual arts, contemporary fine art, abstract art, mixed media paintings, contemporary abstracts, art informel, original mixed media, contemporary spanish art, paperwork, mixed media on paper, print making, original prints, monoprints, monotypes, spanish printmaker, drawings, sculptures, figurative, spanish sculptor, spanish contemporary art, Fine Art Shop, Art Online Shop, Wörrstadt, Woerrstadt, Mainz, Germany, Spain, Spaniard, spanish arts