Amador Vallina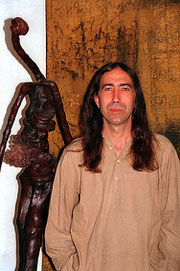 1957  born in El Entrego (today San Martín del Rey Aurelio), Asturias,
            northern Spain
1973  relocated to Germany
1975-1983 Theatre "Esperpento", Frankfurt a. M., Germany
           "Theater am Faden", Mainz/Germany
           "Theater Cocoliche", Wiesbaden/Germany
1978  co-founder of the artist studio "Werkstatt",  Wiesbaden
1981-1988  solo exhibitions of theatre marionettes
           in San Sebastián, Zaragoza, Santiago de
          Compostela, Betanzos (all Spain), Mainz,
          Wiesbaden etc.
1991-1996  co-founder of the artist studio [artefacto],
           Wiesbaden
1992/93  spell of work in Salobreña, Andalusia, Spain
1993/94  spell of work in Fuerteventura and Lanzarote,
          Canary Islands, Spain
1994/95  spell of work in Tenerife and  La Palma, Canary Islands,
           Spain
since 1996  independent artist in his own studio, Wiesbaden, Germany
1999-2011 secoundary studio in Majorca, Balearic Islands, Spain
since 2011 studio and sculpture garden in Woerrstadt, Germany
Solo Exhibitions
2014 Kunst hoch 3, Kunstverein Eisenturm Mainz e.V., Germany
2014 Grenzenlos, Ratssaal of the VG Woerrstadt, Germany
2014 La Naturaleza Muerta - Viva!, Galerie unterm Maulbeerbaum, Badenheim, Germany
2011  meins II, Galerie Hellbusch, Mainz
2011  Campo y Mar, Camp de Mar/Andratx, Majorca, Spain
2010  Obra Reciente, Gallery ArteArtesanía, Sóller, Majorca, Spain
2009   trans.form.arte, El Pato, Son Vida, Palma de Mallorca, Spain
2007   RETRO•per•SPECTIVA, Galería Can Puig, Sóller, Majorca
2005   Recién pintado, Agapanto, Puerto de Sóller, Majorca
2004    m e i n s ,  MBA - Management & Business Akademie, Mainz, Germany
2003    Sa Vinya, Deià, Majorca
2003    Roots of Spain, The Bonhoga Gallery, Weisdale, Shetland Islands, Scotland
2002    El Horizonte, Can Perlus, Sóller, Majorca
2001    Pintura – Escultura, Casa de Artes – La Galería, Cas Concos, Majorca
2000    Pintures - Escultures, Gallery Can Puig, Sóller, Majorca
1998    Tür an Tür, with Titus Gran in the foreign studios, Wiesbaden, Germany
1998    Zeitsprünge, Kaus & Meyer, Dreieich-Buchschlag/Frankfurt a. M., Germany
1997    Aus4Stellungen, kunst.verladehalle, Rüsselsheim, Germany
1997    Gallery Swayambho, Wiesbaden
Group Exhibitions
Art works are in private and corporate collections in Mainz, Wiesbaden, Frankfurt, Stuttgart, Munich, Starnberg, Bonn, Hamburg, Berlin (all Germany), Barcelona, on Majorca (Spain), Austria, Switzerland, Scotland, United Kingdom, Denmark, USA ...
Member of ...
Kunstverein Eisenturm Mainz e.V., Mainz, Germany

Kunstverein Ingelheim e.V., Ingelheim, Germany

Essenheimer Kunstverein - Kunstforum Rheinhessen e. V., Essenheim, Germany

ver.di, Fachgruppe Bildende Kunst, Germany
ADOGI - Asociación Difusora Obra Gráfica Internacional
Arte Visión, Palma de Mallorca, Spain
AAVA - Asociación de Artistas Visuales de Asturias, Oviedo, Spain

Tags: Amador Vallina, artist's CV, resume, contemporary spanish artist, contemporary fine artist, independent artist, contemporary spanish painter, spanish sculptor, spanish monotypist, mixed media abstract painter, spanish printmaker, print-artist, fine art printmaker, spanish engraver, spanish multidisciplinary artist, multi-faceted artist, self-taught artist, biography, curriculum vitae, Bio, fine art, asturian artist, Spain, Asturias, Spaniard in Germany, Rheinhessen, Wörrstadt, Woerrstadt, Frankfurt, Wiesbaden, Mainz, Mallorca, Majorca